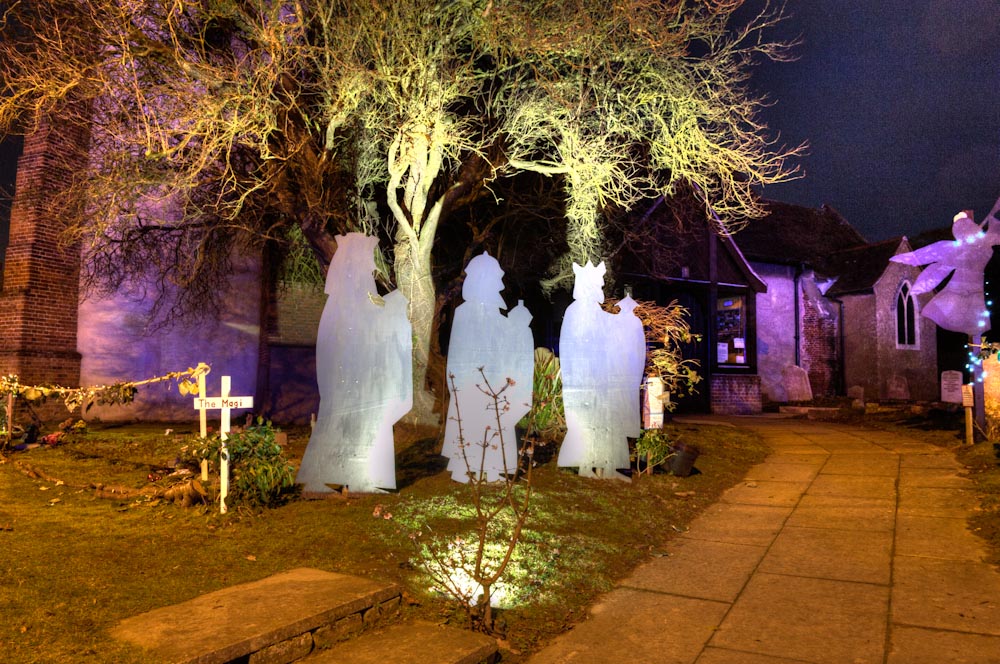 A £500 grant from the Growth fund enabled St Martin's Church, Trimley, to create an interactive nativity trail in their churchyard for all to enjoy.
The trail, in situ for roughly a month, consisted of five stations highlighting the story of Christmas. Each station had large wooden silhouettes (up to 5 feet tall!), and depicted the story as so:
The announcement
The Shepherds
Mary and Joseph approaching Bethlehem
The Magi
The Birth and stable scene.
The path around the trail was illuminated with small lights and decorated with greenery, and was well signposted to show the route. Each station had information boards written in the words of one of the characters, which also had QR codes to access this information to aid accessibility. Some of the boards encouraged thought and reflection by asking open-ended questions, and each board offered practical activities, including the making of stars from natural materials and prayer cairns made from large stones.
The church's website was also advertised, which held a variety of activities for visitors to do at home. These ranged from quizzes, craft activities and cooking experiences, all relevant to the Christmas story.
The funding contributed to the materials needed to make the silouhettes as well as the lighting to illuminate the trail in the dark.
It was happily noted that the trail garnered interest both from church members and the wider community, and that the social media coverage on the trail was met with a large amount of positive engagement. People had also come from further afield than Felixstowe to visit the trail, and some had come back more than once to revisit. Lots of positive comments were made;
"I come here every day now when I take my dog for a walk. I came the first time in the evening but now I come during the day so I can wander to each station to ponder and think. I love it. You have brought the true message of Christmas back into Trimley. You are making us think."
"You have given me somewhere to go with my children and they love it here."
The silhouettes were created by the local 'Men's Shed' group, and as a result of this project and their close connections the church has been able to establish a firm relationship with this group of men.
For next year, the church plans to re-run the nativity trail, along with making a few tweaks and improvements. The church also hopes to set up a footfall counter to measure the popularity of the trail.