This Synod was the first to be delivered by Zoom. Following detailed instructions and pre-registration we were please that 111 people attended the Synod and took part in a lively debate on 'Discerning our future'.
Bishop Mike Mike led Synod in prayer and Bishop Martin was spotlighted for his presidential address: "This has been a time of global convulsion. As others have said, we are facing not one but three pandemics: the coronavirus, environmental destruction, and racism. This is a time of upheaval, and however much we may look back longingly wanting things to return to how they were, the world is never going to be the same again, and nor will we". The full address is available to download here:
Presidential Address | PDF
Presidential Address | YouTube
Bishop Martin expressed his desire for a sharpened and accelerated focus on "deepening faith and deepening service" and the development of a strong and sustainable lay and ordained ministry to "serve the communities of our county". Bishop Martin also spoke of a three-pronged approach to address the projected £2m deficit caused by the coronavirus pandemic:
To write to all benefices who currently pay their Parish Share, to say thank you and seek any additional funds
To contact benefices that are struggling to offer support and encourage the creativity and ingenuity required to increase generosity
To launch a new fund called 'Suffolk Saints' that would seek support from those beyond the many who already generously give to the Church, who care about its presence and its work. To launch the scheme Bishops Martin and Mike have personally pledged to give an additional £1,000 each year, for at least the next three years.
Bishop Martin ended his address by leading Synod in a prayer for generosity: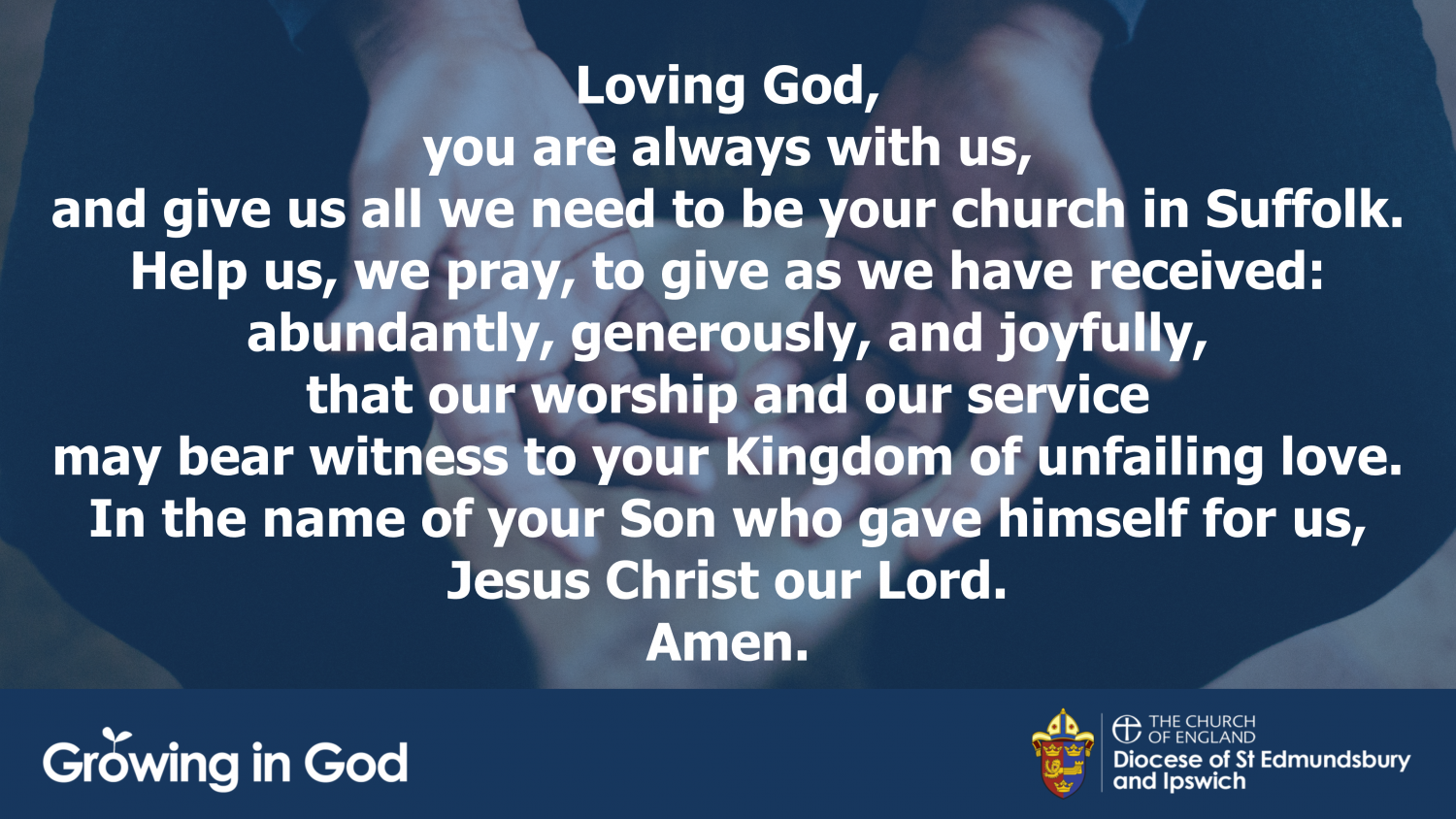 The Synod subsequently broke into 12 small Zoom break-out rooms to discuss key topics relevant to today's climate.
Discerning our future
The topics discussed were:
How do we identify local/focal ministers and what would you expect them to do?
What's the future role of church buildings in mission?
How do we strengthen congregations and deepen faith?
How do we strengthen our response to our environmental crisis?
What creative ideas do we have for developing new sources of income?
How do we extend our community engagement and partnerships for the benefit of the people of Suffolk?
The results of these discussions were debated following the refreshment break, hosted by Revd Sharon Potter, Clergy Chair of the Synod. The key points raised from these discussions are included below:
Discerning our future | PDF
The financial matters were introduced by Mark Pendlington, Chair of the Diocesan Board of Finance (DBF). Following a presentation outlining and explaining the figures by Gary Peverley, Finance Director for the DBF, the 2021 budget and Parish Share request were approved by the Synod members, and the financial statements for the last financial year received.
Gavin Stone, Diocesan Director of Strategy and Communications provided three notices:
A safeguarding update to note that the IICSA report is due to be issued on Tuesday 6 October and the support available to survivors via 'Safe Spaces', plus an open letter from Archbishops of Canterbury and York, the Lead Safeguarding Bishop and the national Director of Safeguarding.
Information about the 'Living in Love & Faith' resources due to be released by the National Church on Monday 9 November 2020
A summary of the National Church Christmas campaign for 2020 'Comfort and Joy'.
Bishop Martin closed the Synod with the blessing.
Diocesan Synod Minutes | PDF
Page updated 20 October 2020