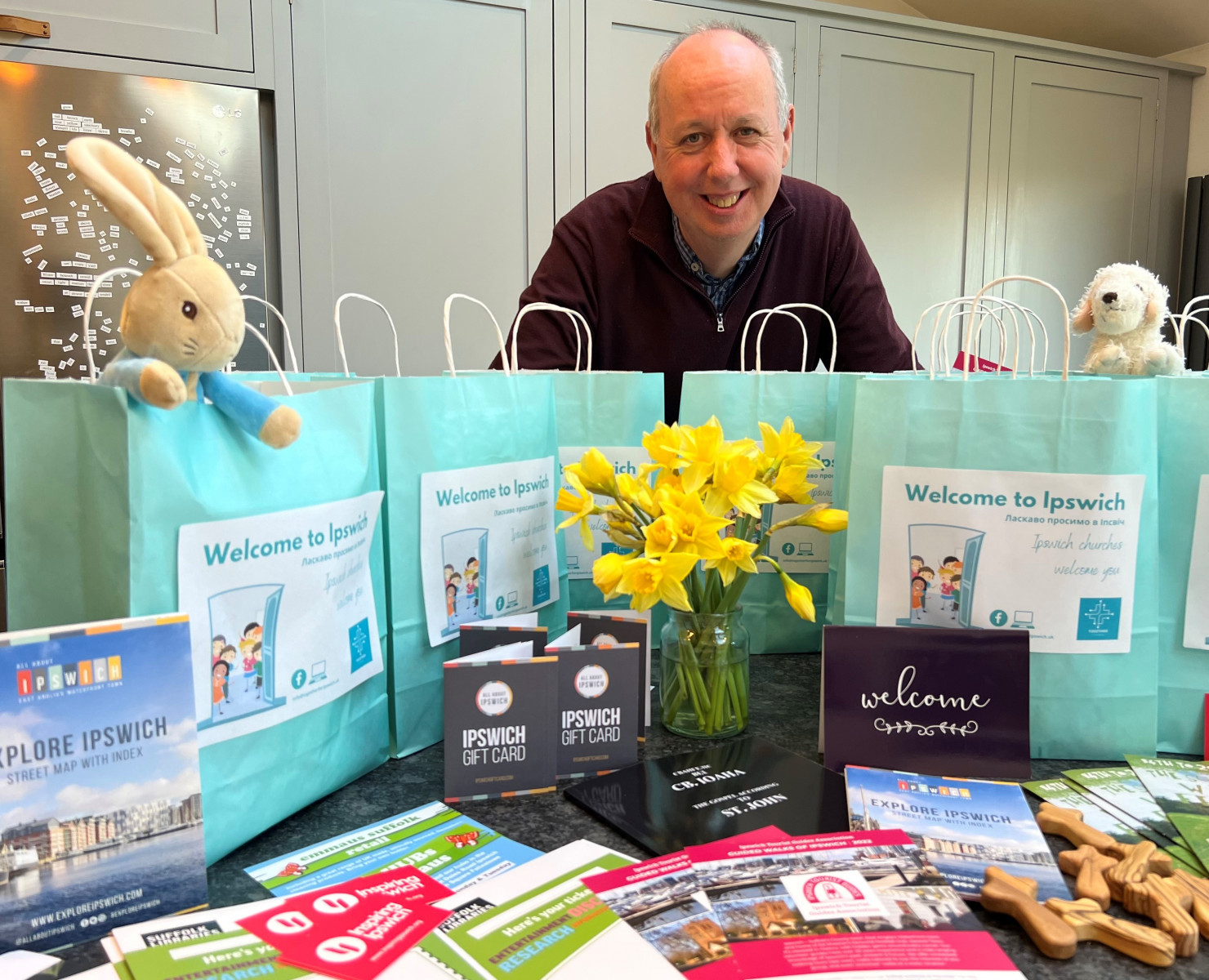 Ipswich churches are coming together to help Ukrainian refugees and to provide support as they are welcomed to the town.
Churches from the county's main denominations and networks along with several Christian charities, have launched 'Together for Ipswich' which as one of its very first initiatives will provide a co-ordinated response to the war in Ukraine.
Simon Barrington, Chair of the group, said the idea is to provide a single point of contact between the civic authorities, including the Local Authority, and the more than 80 Christian churches in the town, charities, and people of Ipswich. As well as Simon, The Archdeacon of Ipswich, Rhiannon King, recently took part in a vigil for Ukraine on the steps of Ipswich's town hall, attended by more than 300 people.
"We were able to meet a number of local Ukrainians who came and quickly realised they didn't know each other," she said. "This initiative will allow us to meet and build a network of local people affected by the conflict that we can help and support. The humanitarian crisis in Ukraine is a tragedy, and we need to do all we can to support those in need."
'Together for Ipswich' will provide information and support for those fleeing the warzone – as well as helping families who have offered to open their homes to refugees. It also aims to bring together Ukrainians who have already made a home in Ipswich, to develop a network of people who speak the same language, ready to help their compatriots.
The group has created a welcome pack for churches to give out, including maps of the town, information about local support groups and English classes, chocolate, toys for children and some free copies of the Ukrainian New Testament while available. The packs also include information about local Top-Up Shops (www.ipswichtopupshops.co.uk) provided by some of the churches and places of welcome.
'Together for Ipswich' has brought together Christian church communities across the town and has also been in contact with the local orthodox churches.
Virtual Meeitng
Wednesday 30 March 30 from 7.00pm
This virtual meeting is being held for those considering hosting a family fleeing the conflict. Mayor of Ipswich Elizabeth Hughes, Archdeacon Rhiannon, The Diocese's Safeguarding Manager, Karen Galloway, and the local refugee council are all set to attend.
Simon Barrington added: "There is so much good will out there and people are really stepping up to help. We hope Together for Ipswich will provide an important link between the amazing work being done by churches and charities in Ipswich and the Local Authority."
For more information, visit www.togetherforipswich.uk or join the Together for Ipswich Facebook Page.
Visit our Crisis in Ukraine website page for further information here.