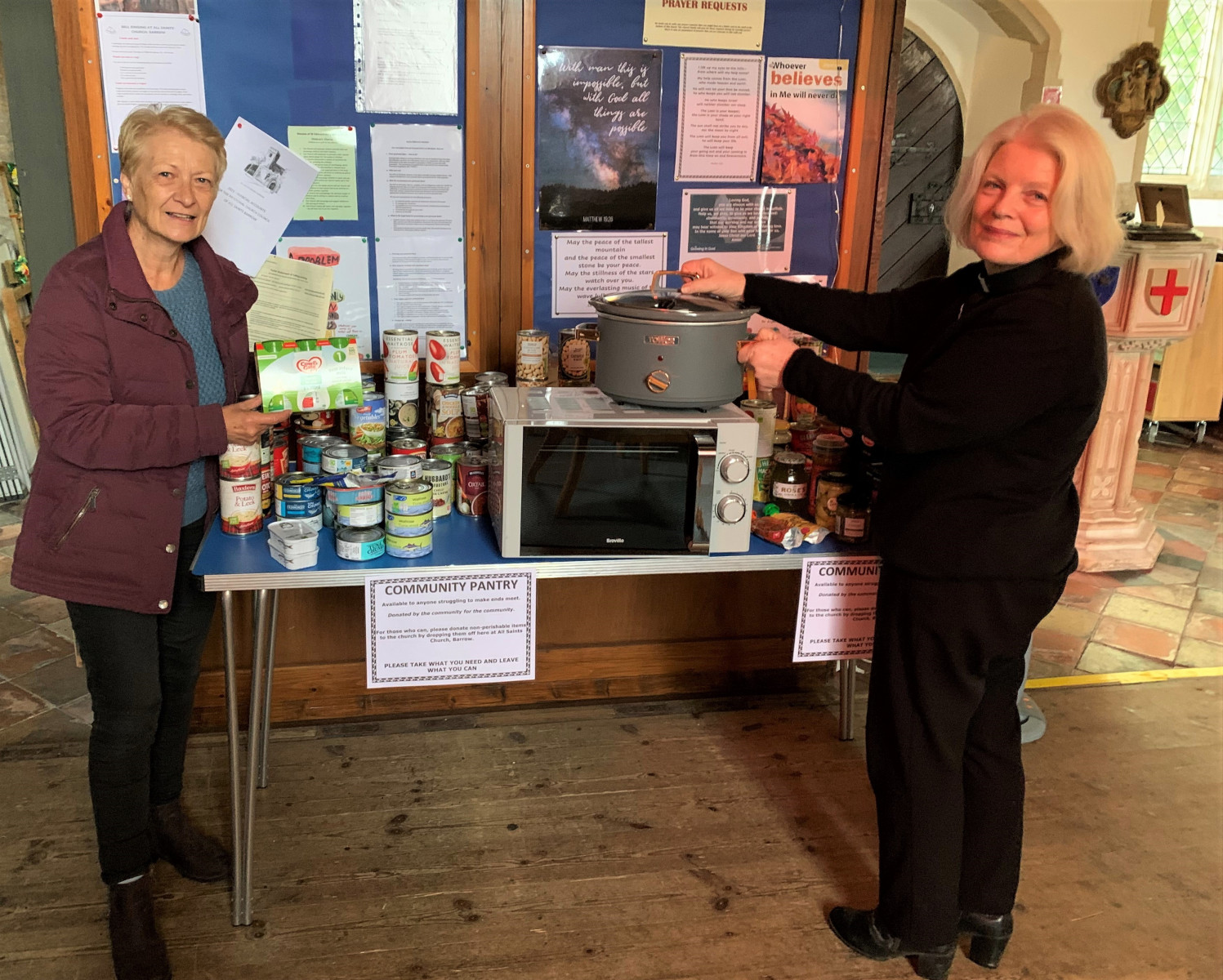 Working as a partnership with local schools, the Good Neighbours' Scheme, Parish Councils, Village Hall Committees, the local pub and other groups, the Revd Lynda Sebbage has been able to set up a programme that includes a community pantry, warm rooms, hardship fund and a microwave and slow cooker project.
Funding for the hardship fund is raised through the Breakfast Club and a Praise and Play group and Lynda is able to offer, anyone in the benefice who has an emergency, small amounts of money to tide them over for perhaps an unexpected expense or for example to buy children's shoes. Some people need help with food and the community pantry serves to help out. A local business has provided £1,000 towards the purchase of slow cookers and microwaves enabling the team to offering people help with producing nutritious food at an affordable price, and tips on how to cook more economically.
The Revd Lynda Sebbage says "We can respond quickly in an emergency. As the church, we feel a responsibility to lead these initiatives and show the love and compassion of Christ. We do love our neighbour and I hope it shows".
The pub in Barrow is offering a 'warm room' with a cup of tea. Risby Village Hall is also setting up regular Cozy Coffee Clubs, there will be an opportunity to keep warm, use the kitchen facilities in the Gift Horse Room and chat with other villagers. Risby Village Hall will be putting on more events like this during the week as the weather gets colder, but the next planned one is on Saturday 19 November 2022, 10.00am to 12.00pm. Free to attend and all are welcome.
Towards Christmas, with the help of the Good Neighbours Scheme, boxes of food will be distributed around the villages.
Lynda adds, "It is vital that we work collaboratively as we have much strength and more ability to reach those who need the help that way. People often want to help but don't always know how to, so with the church taking this forward, people are more likely to be involved. It really is a partnership. We are so grateful as the school children at both our local schools, gave, and are giving their harvest offerings to our Community Pantry and this in turn, raises children's awareness to the situation many people are faced with".
The project is moving forward slowly but it is likely to pick up as the winter months approach the benefice will continue to support this work in their outreach.