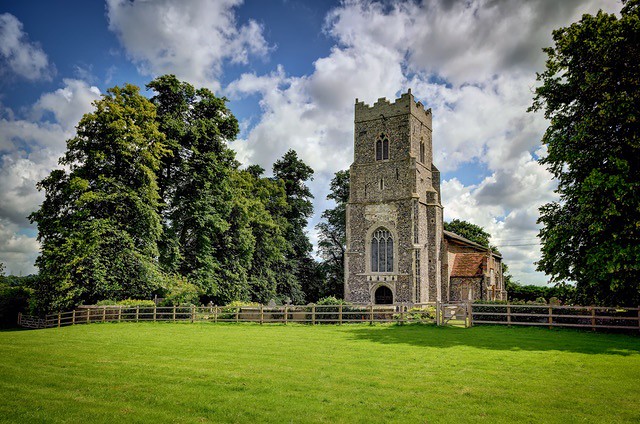 A much-loved Suffolk church is to share in a £351,500 heritage funding boost from the National Churches Trust. A £5,000 National Churches Trust Grant will help to pay for much needed community facilities for St Peter in Copdock. The money will help pay for a new accessible toilet in the tower, ensuring the Grade II* Listed church building can thrive today and tomorrow.
A church has existed on the site of St Peter's since the 11th century, with the present church being built in 14th and 15th centuries. The stonework, which was mainly built from stones collected from surrounding fields, includes some interesting examples reflecting the effects of the glacier that went through this area. The main entrance is through a south porch, the stepped gable of which was added in the 18th century, with a sundial erected in 1935 to commemorate the Jubilee of George V. On the left of the entrance of the church is 15th century font (recut in 19th century), with an attractive Victorian wooden cover. It is a simple one aisled church with a later chapel to the north and its greatest external feature, the fine tower with its attractive west door, was built in 1478. The tower holds a peel of six bells, the earliest of which was made in 1614.The north door also dates back to 15th century. The North transept wooden roof still retains the 15th century leaf and flower trusses. Down the main aisle, on the end of each pew, are fine quality 19th century 'poppy heads' (all different), believed to be the work of Henry Ringham; a notable Ipswich wood carver. The gallery was built in 1901, the same time as the organ chamber.
Whilst redecorating the church in 2020, an arch doorway and stairs leading to the old rood screen was discovered. This has now been restored to its original state.
The grant from the National Churches Trust will facilitate the installation of a new accessible toilet in the tower.
Broadcaster and journalist Huw Edwards, Vice President of the National Churches Trust, said: "I'm delighted that St Peter's church is receiving funding for modern community facilities. Building a new accessible toilet in the tower will keep the building open and in use for the benefit of local people. Whether seeking quiet reflection, access to community services or as a place to worship, the National Churches Trust helps hundreds of churches each year and with the support of local people, keeps them thriving today, and tomorrow."
In 2022, the National Churches Trust made over 255 grant awards to churches throughout the United Kingdom, with funding totalling more than £1.95m.
In 2023, grants continue to be available churches of any Christian denomination that are open for regular worship to fund urgent repairs, maintenance, installing loos or kitchens and feasibility studies to develop projects. Full details are at: nationalchurchestrust.org/grants