Suffolk in Prayer is a movement of Christians committed to praying for God's blessing on this beautiful county and it's people.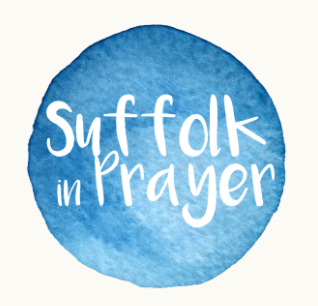 Suffolk Prayer Walks
We are excited to be planning the first Suffolk-wide prayer walk for the weekend of 22-24 April, with people from different Christian denominations and streams working together. We are looking for walkers, runners, cyclists and home prayers to join us in praying for God's blessing on communities across Suffolk. To find out more about getting involved please contact: suffolkinprayer@gmail.com
Suffolk Jubilee Prayer Spaces
As part of blessing our county, Christians in Suffolk are creating hundreds of Prayer Spaces; not just in churches but in schools, libraries, pubs, churchyards and so on, the sorts of places that inspire people to linger and want to pray, even if they don't usually. You'll find links and resources to help you find creative and attractive ways of creating prayer spaces at www.suffolkinprayer.uk as well as the opportunity to register your community prayer space and put it on the map.
Encourage those in your congregation who like using their imagination and creativity and who like helping others to pray and then let's see what we can do together, to get involved.
Resources for schools | PDF